digital revolution of marriage, coming soon?
How is todays technology integrating with one of oldest traditions…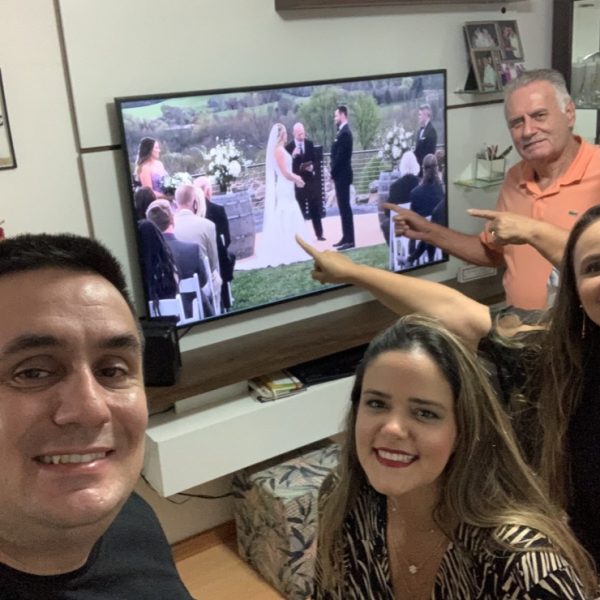 What can couples expect in next 12mths?
There are growing rumours that over the next 12 months there will be a huge change in how we actually get married!
Marriage venues around the UK are going to get the opportunity to move on from the traditional Marriage Register to a brand new Digital Marriage Register (DMR)!  That's right, the oldest book is having a 21st century upgrade! We're still waiting to hear when this might be delivered, but it could be the kind of disruptive event that leads to all sorts of innovation and greater choice and flexibility when it comes to HOW you will get married. 
"How much of a difference can it really make?" I imagine you asking. "Surely it just means signing a tablet (I-Pad or other device) instead of a book?" Well, they are excellent questions you've arrived at through a healthy dose of natural skepticism and pragmatism that we will explore together.
To start with, let's consider the success of companies like Zoom. The demand for connecting people across the world is stronger than ever. As we get more and more used to interacting digitally companies will make provision for better services with more choice and customisation to meet user needs. 
So how does this relate to the Digital Marriage Register (DMR)? Let's have a look at what we can consider to be the minimal success criteria for the DMR.  
In order for the Digital Register the digital register to meet the basic legal requirements of the UK it must allow the following:
the marriage must be entered in the marriage register and signed by both parties, two witnesses, the person who conducted the ceremony and, if that person is not authorised to register marriages, the person who is registering the marriage.
https://www.citizensadvice.org.uk/family/living-together-marriage-and-civil-partnership/getting-married/
So that means the couple, the Celebrant, the qualified Registrar and the Witnesses will all need to sign the Register, a collection of at least four electronic signatures and on some occasions, five. 
I am making the assumption that the DMR will be developed to meet this regulatory requirement, unless there is a greater systematic change I have not anticipated, so it must make provision for collating 5 signatories. The development phase for this would not be long or complex, particularly if the initial thought is merely to replicate the existing Register. But there are stretch requirements that would turn the DMR into a foundation for something groundbreaking. 
If the signing form could be presented to a signatory wherever they are via the internet then suddenly we have a situation where couples get the freedom to "beam someone in" as their Celebrant, providing freedom of choice for their ceremony without worrying about any travel restrictions. 
This is because as long as those who need to sign have access to the digital register it will not matter where they are. If there is a solution in place that will allow a Celebrant to be in a different location to the wedding but perform their services, and a nice neat digital way of  meeting the legal parameters, then couples may have the freedom to choose their Celebrant regardless of location. 
Should illness or sickness prevent a qualified Registrar from attending an alternative could be sourced and attend the wedding Digitally preventing a loss of date or unforeseen issues at an already stressful time. 
By being smart about the delivery of this Digital Register we are on the cusp of a new age of Weddings choice and flexibility. "But this is all hypotheticals! What evidence is there that the industry is modernising now?" Wow, tough crowd in my imagination. I believe the clear evidence that the industry is modernising and starting to accept these ways of thinking can be seen in what we have achieved here at E-There. 
We are now working with a number of high quality wedding venues to ensure your friends and family can share in the Big Day regardless of what is happening in the wider world. 
All of our venues understand the importance of ensuring that the occasion can be shared. In this day and age, where these capabilities are available, any venues that do facilitate these digital interactions may find themselves falling behind their rivals. I invite you to consider a situation where a couple has to choose between two beautiful venues, but one venue can ensure the big day can be shared with all those that the couple love, or a venue that simply cannot do that….
E-There provides high quality wedding streaming, and we've connected over 170,000 guests across 143 countries so the technology is already here to connect your guests. Our successes to date show that there is an appetite for sharing this kind of happy event in our lives with as many people we care about as possible.  
At E-There it's our ambition to connect as many people as you want to have there for the wedding.  We are removing the point of pain where you have to decide you can't invite someone you care about to the ceremony. 
It is an unfortunate fact of life that everybody may have to make decisions based on budget or family dynamics. But, with E-There, everyone can still be there to share the experience. Basically we provide a way to include rather than exclude, and we like making people happy. 
In addition to this consider how we now make friends and acquaintances across the world now. Facebook, Twitch, Discourse and other platforms help to form global communities. At the moment it is a rare event that a member of one of the on-line communities could share their wedding with that group, and it would simply be an event that is referred to in the past tense: "How was your wedding?" can become "By all that is holy, that was an amazing wedding! How did your Uncle Ari fit himself into that cupboard?". Simply sharing a link to the couples' very own bespoke wedding page means that everyone can be part of the festivities. It really is as simple as if you can't be there, just E-There. 
Making the big day, or big days in some lucky cultures, as special as possible becomes the main driver for anyone who gets into the wedding industry. The DMR has the potential to add flexibility and add contingencies that can be supported via the internet that we've never had the opportunity to provide in the past. . 
Catering for the natural divergence of the requirements that different couples will have for their weddings come into this. We may find an initial reluctance to Live Stream a celebrant from their location to administer the ceremony from some couples. But we may also find an opportunity to make someone's day even more special…  
Think about a scenario where your oldest friend is working at a top secret, deep sea naval base and simply cannot travel to the wedding. But by using the wonders of high quality streaming they can attend and even participate, and put their name forever in the Digital Marriage Register as part of a memory that hopefully lasts forever.. That may be an extreme example, but the point remains that we can never predict in life what might happen. 
So yes, we are still to find out any real information about the DMR, but these rumours that a change is imminent appear to be gathering steam, and if that is the case we may be on the cusp of a technological revolution within the wedding industry. 
So much depends on the underlying technology that is chosen to underpin the DMR. If the developers ensure it is correctly flexible and scalable DMR, with potentially open APIs then wedding providers could potentially integrate with the platform and two way data transfer could be established. 
This has the potential to massively improve logistical planning for both couples and wedding providers, making us more efficient and so taking even more pressure off the complexity of wedding planning. 
This is obviously just me freestyle exploring the potential uses of the product. I am not aware of any of these potential developments actually being part of the Product Backlog, but even if they are not, in the future they could be added. Or of course any alternative uses for the DMR that those far more experienced in this wonderful industry than I am think of before I do!  
The conversation will become much more interesting if the developers of the DMR have considered these possibilities, maybe even more or better ones, and we wake up one day to find all logistical issues are resolved! If that is the case supplementing your venue with E-There capabilities could be even more important moving forwards. 
So it may well be that a Digital Revolution is not here. However Digital Evolution is already happening and is here to stay. This may take us into a golden era for weddings, changing the ways we plan for, and even participate, these momentous occasions. We should all embrace it!